Our Services
Professional Inspections
Using innovative industry solutions and expert knowledge, Ironside Services is proud to bring you the very best services.
ABOUT US
We are professional building inspectors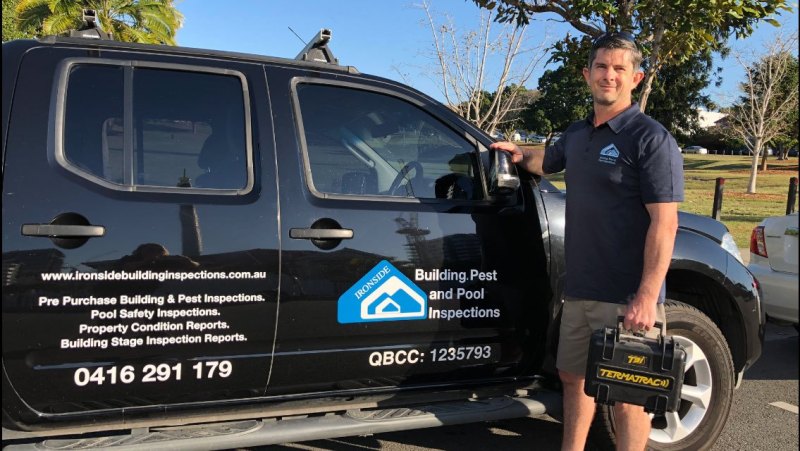 Brisbane's number 1 choice
Dependable and knowledgeable, our services are unmatched by other Building Inspection companies in and around the Greater Bribane region. Ironside is committed to quality service setting our clients mind at ease with a stress-free inspection.
We are able to deliver a knowledgeable fact based service, thanks to our 15-plus years of hands-on experience and industry knowledge, coupled with the latest tools and technologies. We take the time to identify any minor or major issues. We deliver you an all-encompassing report, which makes your decision making easy.
Based in Inner Brisbane, Ironside was founded by Gavin Godfrey, he understands how important buying a property for either Investment or your families future.
His knowledge becomes your knowledge, and you can buy with confidence.
12 May 2022>
Once water is allowed to get into the walls of your home, you're going to be faced with a litany of symptoms until the problem is resolved. ...
by Gavin Godfrey
10 Mar 2022>
Modern plumbing allows you to access water in ways that have been historically impossible, whether that's a toilet on the upper floor of a b ...
by Gavin Godfrey
29 Dec 2021>
A home is much more than a ramshackle arrangement of walls left standing above the dirt. The foundations of any home stretch below the earth ...
by Gavin Godfrey
15 Dec 2021>
Waterproofing Membranes are located around all wet areas of any home to prevent already-irritating water leaks from becoming entirely catast ...
by Gavin Godfrey
01 Dec 2021>
While humans make mistakes all the time, sometimes, those mistakes can become costly, especially when it involves water ending up somewhere ...
by Gavin Godfrey
17 Nov 2021>
The humble smoke alarm is one of the most important safety devices in any home, ensuring everyone inside is kept safe from the ever-present ...
by Gavin Godfrey


What clients say about Ironside Building and Pest Inspections
Gavin managed to fit me in for a B&P inspection by the end of the week on short notice. I showed up to the property near the end of his inspection and was told by the agent that he was v ...
Read Full Review

Ironside Building and Pest Inspections response: Hi David, thank you for the review. I hope the major issues get sorted out prior to settlement. All the best for the future.
Vinod Bhaskaran
26 Apr 2022
Gavin is very thorough and professional. He takes ample time to ensure that his inspection result is of best quality. He is very knowledgeable and gave valuable advice. I hired him twice ...
Read Full Review
Gavin was doing great work and so professional at the inspection. With kind patience to explain the issues to me. Much appreciated!

Ironside Building and Pest Inspections response: Thank you Ellie. It was nice to meet you during the inspection. Hope the report helped with your decision. All the best.
---
Inspection Quote Enquiry Form
Inspections Brisbane Westend based locally servicing:
Annerley
,
Auchenflower
,
Balmoral
,
Bulimba
,
Camp Hill
,
Carina
,
Carina Heights
,
Coorparoo
,
Dutton Park
,
Fairfield
,
Greenslopes
,
Hawthorne
,
Highgate Hill
,
Holland Park
,
Holland Park West
,
Moorooka
,
Morningside
,
Mount Gravatt East
,
Norman Park
,
Salisbury
,
Seven Hills
,
South Brisbane
,
St Lucia
,
Tarragindi
,
Toowong
,
Upper Mount Gravatt
,
West End
,
Woolloongabba
,
Yeerongpilly
,
Yeronga